I know I have enough on my plate. I know I may probably have too much on my plate. But thats very fitting since my mom always told me "your eyes are bigger than your belly Lisa Jayne!". And yes that is a real saying. At least in my childhood it was anyway.
So when I was at Dick Blick and I saw the Speedball Screen Printing Kit a few months ago I held out the urge to purchase it with my hot little hands. Until I went back 2 weeks ago. Then, I had a coupon and well with a coupon comes great responsibility.
So I took it home all ready to screen print my lil' heart out. Til' I read the directions and realized this was going to take a bit more planning that I had anticipated and I tried not to cry and get depressed.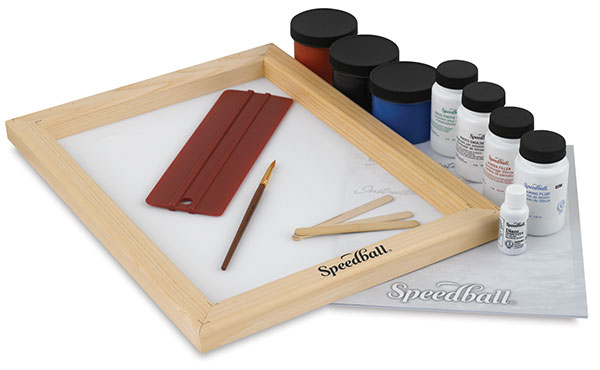 Which brings me to a week or two later when I had been messing about with making a few screens and printing on a few tees I had laying around. I finally got around to doing a good "run" and actually stopped long enough to take pictures. Heres a few things I learned….
First off mix your emulsion and the little bottle of sensitizer that comes with it. It really stresses that in all the YouTube videos I watched and in the directions of the Speedball Screen Printing Kit. I don't know why you wouldn't do this but from the amount they stress to do this I'm assuming a lot of people didn't and it didn't turn out right. Mix it good! It will smell like Elmers Glue. I'm assuming there's glue in there.
Then use the red plastic scraper and in a dark room or in a room without direct sunlight (the emulsion is light sensitive) pour a little from the bottle onto your screen. So with that being said I poured a lot, like the whole bottle and made a huge mess! Ugh gross. So that first screen was toast!
Pour a little and spread spread spread with your red scraper moving the emulsion all over the screen. You want an even and THIN coverage. Keep flipping the screen back and forth and scraping like your scooping up all the excess emulsion. This will take a few tries. Don't get bummed if you mess it up! Once you think your screen is evenly and thinly covered on both sides scoop the extra emulsion left on your scraper and try to put it back into the bottle it came out of. This is tricky so make sure you have plenty of paper down if you drop some.
Then place  your screen into a cardboard box with the raised lip side down so that the screen itself is not sitting on the bottom of the box. This takes a little forethought. You want the bottom of the screen butt up. Then place it into a closet or somewhere dark and leave it alone for a few hours. You want it to dry. I used an old cardboard box from Costco and folded the flaps up so it was closed.
It will dry bright green. The screen is still photo sensitive so leave it in the box or cover it up with a dark t shirt. Get your print. Now thats a whole other blog post but print something out on clear transparencies like the ones from Staples. I like to print out images from the Graphics Fairy or I just use Google Drive and come up with a saying and print it out from there. Here is an example.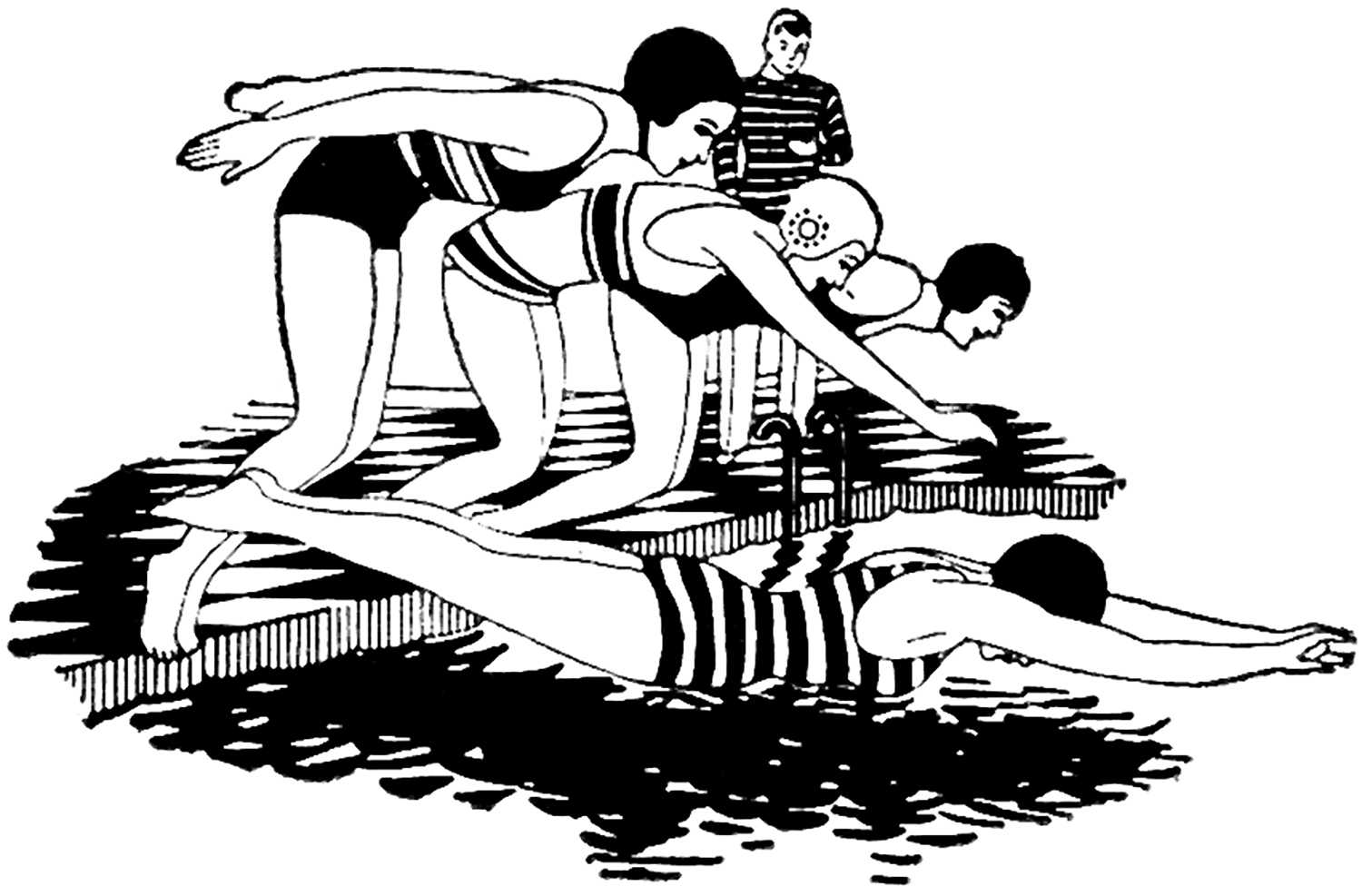 Graphics Fairy Image
My image I made on Google Drive
The next part trips me out! Put it on your dry screen and flood it with light so as to "burn" the screen. There are great directions in the Speedball Screen Printing Kit for this. We used one of my husbands construction lights for working outdoors at night. I set my timer for 10 minutes and it always burned a clear screen. I did try and use several lamps with low watt bulbs with my first attempt. I ended up ruining the screen. So make sure you have a good light. I do believe these construction lights are 500 watt and are NOT LED.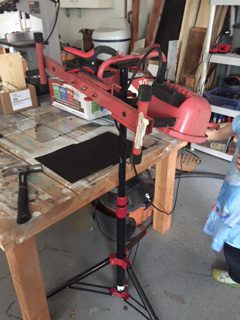 I put down a few sheets of black paper underneath my screen so as not to reflect the light. I also used a piece of glass from a picture to weight down the print onto the screen. Again the time it takes to "burn" the screen with your bulb will depend on high your watts are of your lightbulb. There are excellent directions explaining this in the Speedball Screen Printing Kit.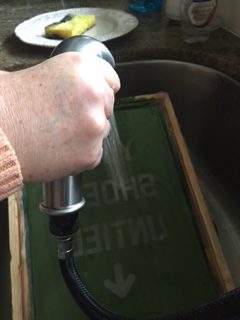 Once your image is burned. It will appear a lighter green than the rest of the screen. You may not see it at first and this does take some experimenting with to get the right "burn".
Then you will flood the screen with cold water and watch the burned area flush away. It becomes liquid and slowly gets washed out.  Make sure you use cold water. If you use hot it will take off all of your emulsion. No bueno! Make sure your tap is set to cold.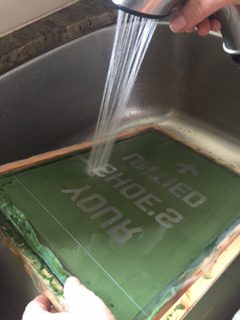 Flip the screen back and forth in the sink to wash away the "burned" area. This will take a while. Better to use a hand held sprayer. I've heard that some people will use their hose outside but don't take it outside as the emulsion is still light sensitive.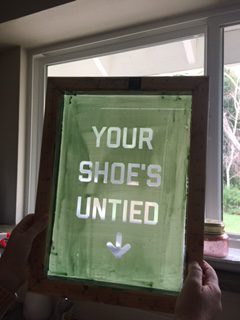 Hold it up to the light and check that you've washed away all the words and there is "negative" space. This is where you will "push" the printing ink through the screen to create an image. 
  Once you're sure all the words have been washed away with cold water then you can put it outside to dry where it will further dry and the remaining emulsion will harden and change color to a sagey green. Yes I said sagey. 
Just a photo of my light setup in the garage where I burn the screens. 
My t-shirt. This is one from Bella + Canvas. I think its a toddler size. I did not prewash it.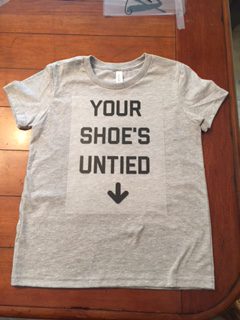 A picture of the clear acetate sheet on top of the shirt to visualize how it will look once printed. You may want to do this before burning your screen to give you an idea if your letters are large enough and look how you want them to look.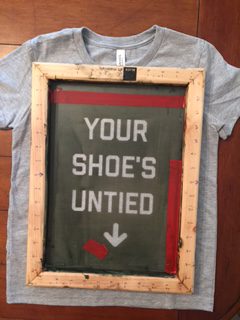 My screen. I marked the wood frame with inches like a ruler and then Imarked the center. I read somewhere to line the center of the frame up with the shirt tag to make sure its centered. The red tape I also purchased at Dick Blick. Its for covering up holes and or areas that didn't get covered with the emulsion. 
I put a line of blue Speedball ink across the top of my screen. Its pretty thick.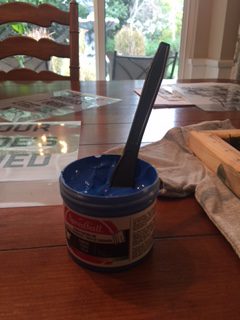 The ink.

Then I "pulled" the ink down with my red scraper that came in the Speedball kit. I also bought a more "professional" scraper and I must say I keep going back to this one that came in the kit. Its just lighter and easier for me to handle.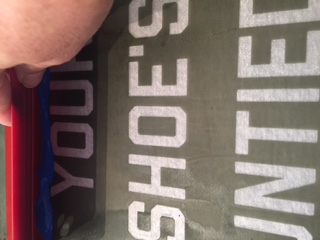 Pull the ink down at a 45 degree angle.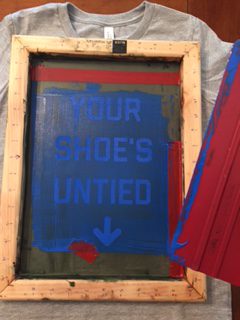 Cover the entire screen where the image and or words are.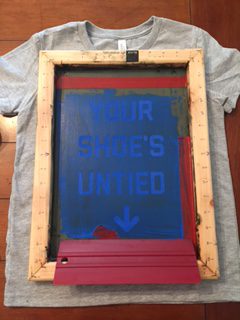 Once youre happy that the entire image is covered you are done. Lift the screen straight up off the shirt. If you have extra ink at this point scoop it up with your scraper and put it back into the ink jar.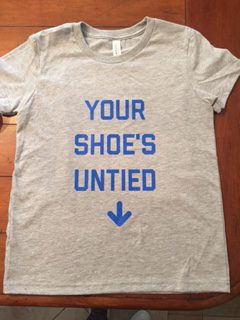 And there you have it! YOUR SHOES UNTIED!

Wash your screen out immediately after your'e done so that the ink doesn't dry on it. Wash both sides of the screen and your scraper.  You can use hot water with this wash. I then waited until my printed image on the shirt was touch dry and used a hot iron NO STEAM with a thin tea towel in between the shirt and iron and heat set the image for a good 4 minutes moving the iron back and forth. The t shirt is then ready for wear.
*Please note that if you made a mistake with the screen and the ink is water based you can rinse out your shirt before you heat set it if you need to do it over. Once heat set with the iron you cannot wash the image out.